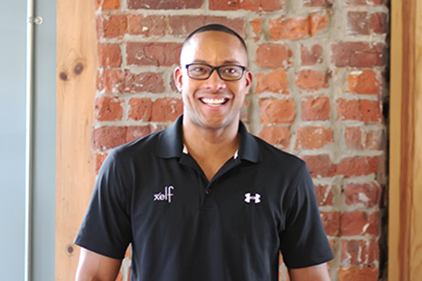 Damian Lockhart has been a Fitness Professional (personal trainer) since 2000 and founded Xelf in 2005. His lifelong relationship with exercise, nutrition, and seeing others struggle to find their balance has been the driving factor behind his passion to help others become Empowered Exercisers.
Damian graduated with a Bachelor of Education in Kinesiology from McGill University in 2003, where he worked as a fitness consultant during his studies. The hours spent in the gym showed Damian that everyone functions at a level of increased energy, heightened mood and improved confidence during and after exercise.
"People are the best versions of themselves when exercise is a priority in their lives.
Why wouldn't I want to be a part of that?"
What Damian has been driven to add to the fitness industry is showing people how to create a better Relationship with Exercise and become Empowered Exercisers so that they can live the benefits of exercise.
"When it truly comes from an 'I want' to VS. an 'I should or I have to', you get to live the benefits of exercise."
"I believe that when we paint a better picture of what exercise is and create a better Foundation for beginners and Yo-Yo Exercisers, the percentage of Regular exercisers will climb."
As a youth Damian pursued experienced fitness mainly through soccer and basketball but it was not until his post-secondary studies where he came to fully appreciate how exercise can be used as a tool for people to love and improve their lives.
After graduation, Damian began working as a personal trainer for a mainstream fitness centre but was dissatisfied with the approach, which focused more on sales and an external, temporary approach to fitness.
In 2004 he received his ACE Personal Trainer Certification from the American Council on Exercise, an internationally recognized fitness certification. He then became a Certified Strength and Conditioning Specialist with the NSCA in 2006, a certification which requires a post-secondary education in a fitness-related field and targets higher level training for athletes.
Damian has created the Foundation Program and the Empowered Exerciser Membership, which are unique and impactful programs that greatly support people to live an active life that they enjoy with Functional Strength Training as their foundation. The goal here is to guide, coach, and inspire people to live in shape instead of always trying to get in shape.
"The Xelf Foundation Program and Empowered Exerciser Membership is the place to start for beginners to resistance training or anyone who has not yet succeeded at exercising consistently long term."
Damian is very passionate and dedicated to his angle as a Fitness Professional who enjoys most, the opportunity to teach and inspire the in-active and yo-yo exerciser population. He has worked hard to create a powerful and impactful presentation for those at the contemplation level of change when it comes to exercise.
His talk is called, EMPOWERING YOU TO BENEFIT GREATER FROM EXERCISE…
If you'd benefit from some motivation and a realistic bigger picture of how you can live the benefits of exercise. You must attend his next presentation.
In addition, Damian sees both personal and professional value in constantly educating himself through literature on mind, body, soul, exercise and nutrition. Damian is also an
Accelerator Lifestyle Coach
A certified C.H.E.K. Institute Nutrition and Lifestyle Coach
A C.H.E.K. Exercise coach
It was these last three comprehensive certification programs and the countless hours reading from the topics mentioned above that inspired his views on a holistic approach to healthy living and seeing sustained exercise as an essential component to living life to the fullest.
Damian is motivated to bring a well-rounded approach through his experience and education to others who seek improved health, energy, athletic ability, everyday movement ability, and a better body that they can experience more joy through.