Kinh's Vietnamese Restaurant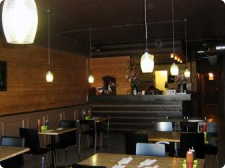 Who hasn't considered opening a restaurant at one time or another?
The reality however is far more challenging than the idyllic dreams that come to mind. For proprietor Kenny Nguyen of Kinh's Vietnamese Restaurant those challenges are what make the business interesting.
"We're always striving to identify ways to get our expenses under control" explains Nguyen. "I was so happy to find a way to reduce my energy consumption and save each month on my power bill".
Kenny chose 3 watt LED bulbs to replace the standard 27 watt incandescent bulbs over the dining room tables.
"I didn't have to change any fixtures, I just changed the bulbs. The new bulbs run cool to the touch, were super easy to install and I won't have to pay someone to change them for a least 10 years" explains Kenny. "The next step, as our budget allows, is to replace the fluorescent tubes in our kitchen and prep area with retrofit LED tubes."
LED retrofit tubes replace fluorescent lights containing poisonous mercury and lead. They are designed to fit in standard fixtures with simple modifications and operate on a fraction of the existing energy requirements.
Stephen Feswick of Ecolight LED Solutions – Alberta provided Kenny with a Return on Investment calculation that demonstrated the payback period Kenny found very acceptable.
Kenny summarizes, "For me, it's a good investment and makes perfect business sense. I have to have lights for my restaurant and LEDs are the lights of the future. My customers find both the colour and brightness of the lights very pleasing. I like the overall savings on my monthly power bill. After only 3 months I've already seen my bill decrease due to the new lights."