Halifax's Waterfront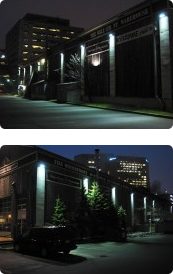 On your next visit to Halifax's Waterfront, you may notice something a little different.
The building known as the Warehouse, (once a Tug Boat repair building) which houses the Waterfront Warehouse Restaurant and Oyster Bar, has been outfitted with a new set of EcoLight LED exterior lights.
EcoLight LED Solutions has furnished an energy efficient Wall Pack light which uses only 48 watts of power but delivers much improved lighting, both for this historic property and for the perimeter of the building.
"We are very impressed by the look as well as the cost savings. The transformation is incredible and a very welcomed change"