Fleet / Facilities Management Complex
LED Lighting Retrofit – December 2010
Admin Conference / Multi Media Room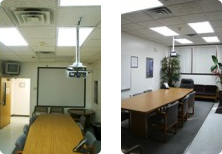 EcoLight LED Dimmable T8 Fixtures replaced non-dimming fluorescent lighting in this main conference / multi-media presentation room, resulting in > 70% energy savings and 80,000+ hour lamp life.  EcoLight LED Dimmable T8 Fixtures are the only LED luminaires tested and certified compatible with the Lutron® Hi-Lume® Series A Driver, offering smooth and continuous dimming down to 1%.
Energy Manager Office

EcoLight LED T8 Retrofit Tubes with internal driver replaced T8 fluorescent tubes in existing fixtures. No new fixtures required – only simple rewiring.  Results – 70% energy savings and 80,000+ hours lamp life.  EcoLight LED Retrofit Tubes with internal drivers are available to replace T8 & T12 fluorescent tubes in 2', 3', 4', 5', 6' and 8' lengths.
External Security Lighting
48w EcoLight LED Wall Packs replaced existing 250w Metal Halide wall packs for external security lighting. Result – 82% energy savingsand 80,000+ hours lamp life. EcoLight LED Wall Packs are available from 24w to 144w in narrow-body & wide-body styles, and are also suitable for interior hallways, stairwells, etc.
Vehicle Maintenance facility

EcoLight 126w High-Bay LED replaced Metal Halide lamps in the Vehicle Maintenance Facility.
Result – >85% energy savings and 80,000+ hours lamp life. The directional feature of EcoLight LED's allow more light to be efficiently placed on the task – in this case better lighting for engine compartment work.
Jack Kazansas Christmas Star
LED Lighting Retrofit – November 2010

In November 2010, the City renamed a more than 60 – year holiday icon, The Orlando Christmas Star, in memory of the late community leader and Star supporter, Jack Kazansas. The Star was refurbished, and EcoLight LED Tube Lights replaced the old fluorescent tubes. Result – – >55% energy savings and more than 100 Christmases before replacement. At the dedication, Mayor Buddy Dyer dubbed it, "Our Green Christmas Star".
Kinh's Vietnamese Restaurant
LED Lighting Retrofit – Calgary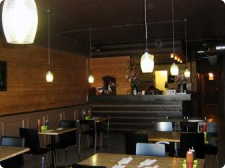 Who hasn't considered opening a restaurant at one time or another?
The reality however is far more challenging than the idyllic dreams that come to mind. For proprietor Kenny Nguyen of Kinh's Vietnamese Restaurant those challenges are what make the business interesting.
"We're always striving to identify ways to get our expenses under control" explains Nguyen. "I was so happy to find a way to reduce my energy consumption and save each month on my power bill".
Kenny chose 3 watt LED bulbs to replace the standard 27 watt incandescent bulbs over the dining room tables.
"I didn't have to change any fixtures, I just changed the bulbs. The new bulbs run cool to the touch, were super easy to install and I won't have to pay someone to change them for a least 10 years" explains Kenny. "The next step, as our budget allows, is to replace the fluorescent tubes in our kitchen and prep area with retrofit LED tubes."
LED retrofit tubes replace fluorescent lights containing poisonous mercury and lead. They are designed to fit in standard fixtures with simple modifications and operate on a fraction of the existing energy requirements.
Stephen Feswick of Ecolight LED Solutions – Alberta provided Kenny with a Return on Investment calculation that demonstrated the payback period Kenny found very acceptable.
Kenny summarizes, "For me, it's a good investment and makes perfect business sense. I have to have lights for my restaurant and LEDs are the lights of the future. My customers find both the colour and brightness of the lights very pleasing. I like the overall savings on my monthly power bill. After only 3 months I've already seen my bill decrease due to the new lights."
A New Look for One of Halifax's Distinguished Buildings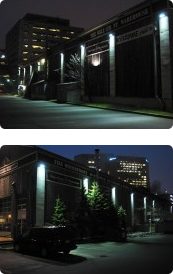 On your next visit to Halifax's Waterfront, you may notice something a little different.
The building known as the Warehouse, (once a Tug Boat repair building) which houses the Waterfront Warehouse Restaurant and Oyster Bar, has been outfitted with a new set of EcoLight LED exterior lights.
EcoLight LED Solutions has furnished an energy efficient Wall Pack light which uses only 48 watts of power but delivers much improved lighting, both for this historic property and for the perimeter of the building.
"We are very impressed by the look as well as the cost savings. The transformation is incredible and a very welcomed change"