Consumer's Choice Award Multiple Year Winner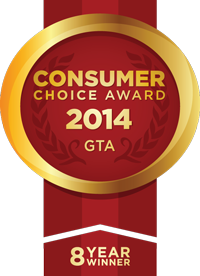 The Consumer's Choice Award (CCA) in association with Léger is pleased to advise you that this firm has been chosen by the Greater Toronto Area consumers as a multiple year winner in the category of signs in the category of Signs – Illuminated.
Celebrating its twenty-first year in Canada, and its twelfth year in Toronto, the CCA is an important institution on the North American business scene. Winners were chosen by consumers through an independent and objective survey conducted last month by Léger Marketing one of the world's largest and most respected research firms.
The CONSUMERS' CHOICE AWARD™ is considered the seal of excellence. As such, it serves to enhance the city's business climate. For Burlington Signs National, the award not only constitutes the crowning achievement of our efforts in SIGNS-ILLUMINATED, but more importantly it also represents the most valuable reward of all, the knowledge that we have earned the trust and loyalty of our consumers.