Encourage Physical &
Social Interaction

Add Lasting Value to
Your School's Physical Space
Welcome to Lot Worx!
Inspiring Students Through Innovative Markings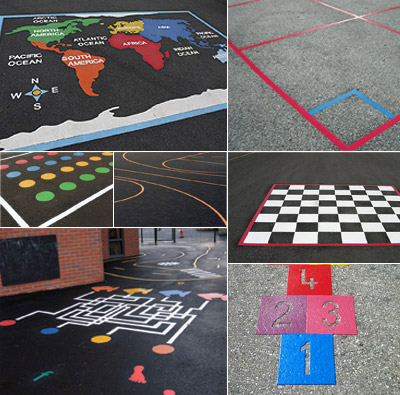 About Lot Worx
We're a national, full service markings company who caters exclusively to the Education Sector. We work directly with schools and school districts (public, charter and private) to help enhance their built environments through low cost methods. We supply and install the highest quality, pre manufactured markings that add lasting value to a school's physical space.
Our customer base includes: Pre-School, Elementary, Junior High & Middle, High School and Post-Secondary institutions. We have worked hard to develop a diverse catalog that appeals to all age levels.
Along with our extensive catalog, we can also create: school mascots, number boards & grids, concentric circles, musical symbols, racetracks, directional markings, flags, custom lettering & numbering and much more! We can easily mix and match colors at no extra cost!
More About Us
Get Catalog
LET'S GET IN TOUCH!
Our markings are far above and beyond paint products and they have been known to inspire students, incite their imaginations, encourage physical and social interaction, reduce bullying and stay off-screen. Whether you're urban, suburban or rural, please contact us and let us help to transform your schoolyard.
Upcoming Conferences
Contact Us