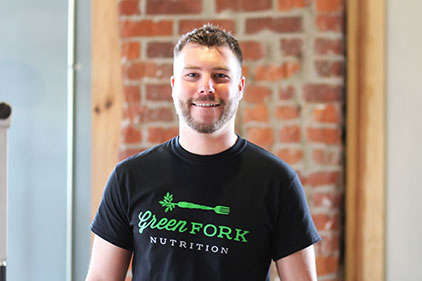 I originally met Damian at a local yoga studio in Hamilton, but I came to know him more and more when a mutual friend of ours was holding yoga classes at his gym. It gave me a great opportunity to recognize Damian's passion for fitness, and I was really moved by the philosophy he created through Xelf.
As luck would have it Damian and I ran into each other some years later and the conversation of nutrition came up. By then I had completed my certification in nutrition so the conversation really got going. He invited me to come visit his new studio and I was immediately impressed. We talked for hours that day and he asked me to join his team and I couldn't be happier.
The nice thing about Damian's philosophy is that it conveniently coincides with my own. Similar to fitness, proper nutrition should be a lifetime hobby. Everyone needs to empower themselves through exercise as well as through healthy eating and I know that's what Xelf is all about.
The topic of nutrition couldn't be more popular today and people are really starting to get on board. I think it has a lot to do with the rising rates of dietary diseases like cancer, heart disease, diabetes, and burdens like high blood pressure. Fortunately, my field of experience deals precisely with helping people fix these problems: even before they start.
Exercise does more than just give you energy, it also gives you your life back, and I think you have to give something back in return. It all starts with healthy food and an action plan for fueling your workouts before and after. If you truly want to maximize your results and really reward yourself for all that hard work, your daily meal plans have to reflect the same kind of effort.
As a nutrition coach, I am proud to be a part of the Xelf team, and together I know we will continue to offer the services that help people achieve all of their long-term lifestyle goals.